Mercedes Benz 450SEL 6.9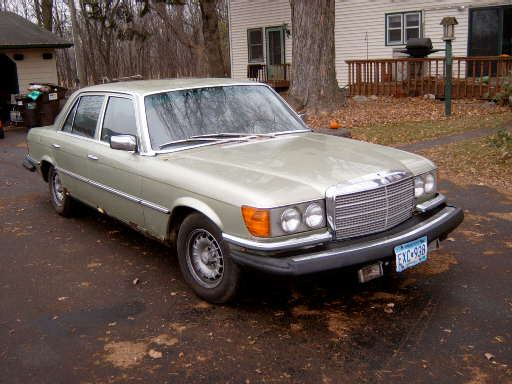 As you may have guessed, I am big car buff, I really like Mercedes Benz cars due to the fact that my father owned one when I was a child. This car is a bit of an impulse buy. I found it on eBay and could not resist buying it. Even though I own 3 cars already and have no place to put them!. I have always liked the W116 body shape. This is the flagship model of the 70's. The W116 model probably the least popular of the big body Mercedes Benz cars however this car is special. It is the 6.9 liter model. This car was the fastest production sedan car in its time and the most technologically advanced. The dry sump lubricated engine produces 286hp and can do 140mph. It has hydraulic self leveling suspension on all four wheels. In 1979 this car cost $40,000 dollars. It had no competition.
I do not have any more pictures of this car as of yet because the car is in Minnesota and waiting for a truck to bring it to Atlanta. As you can see, the car has a fair amount of rust. I am sure that it will need a lot of work. I do not know if I am going to go ahead and restore it, or just drive it for a while and move it along. Anything that goes wrong with these cars will result in an obscene amount of money. It is also very fast, the only person that can catch you in this car is your bank manager.
A good article about this track is a 1977 Car & Driver Review of the Mercedes Benz 450SEL 6.9 Click Here
The Family
Mercedes Benz 450SEL 6.9

Restoration Project Phase Three

Restoration Project Phase Four

Restoration Project Phase Five

Restoration Project Phase Seven

Restoration Project Phase Eight

Restoration Project Phase Nine