1979 Mercedes Benz 450SEL 6.9 Restoration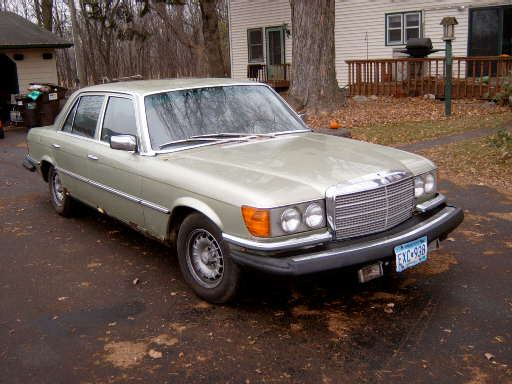 The restoration is about to begin on this car. This car is mechanically in good condition and the interior is like that of a 5 year old car rather then a 25 year old car.
I have spent the last couple of months collecting parts for this car. From looking the car over, it appears that the rocker panels needed the most attention. However from looking through the gallery, you could see the front wings are also very very rusty. Upon later and deeper inspection, I could see that the rear wheel arch and valance on both sides was also pretty rusty. This was not immediately noticeable but you could see some pretty bad. The first part that I bought was the Rocker Panels. These are genuine Mercedes Benz items and cost a small fortune. I later found aftermarket panels for about a quarter of that price. The front wings were bought from a Mercedes enthusiast in South Carolina who was parting a 450SEL. They are not in the best condition and have a little rust but as they are the original wings and not aftermarket replacements. The body shop guy preferred to repair them then to buy new aftermarket panels, After buying the rockers, I started looking for a body shop to do the work. I eventually found a guy to do the work. He insisted that the bad metal should be cut out and repaired from the rear quarters. I started looking for quarters but there does not seem to be anyplace that sells them new but the dealers. However, I did find a yard in Alabama that was willing to cut them off a rust free car for $270 / pair. I drove up to Alabama in the Volvo wagon thinking that I could fit both quarters in the back. Little did I know. We had to tie one to the roof and put one in the back. That was an interesting 100 mile drive back. But I must say, the Volvo is great for hauling things. Everyone needs a beater wagon.
Below are some pictures of the assembled parts at the Body shop after I unloaded them from the Volvo.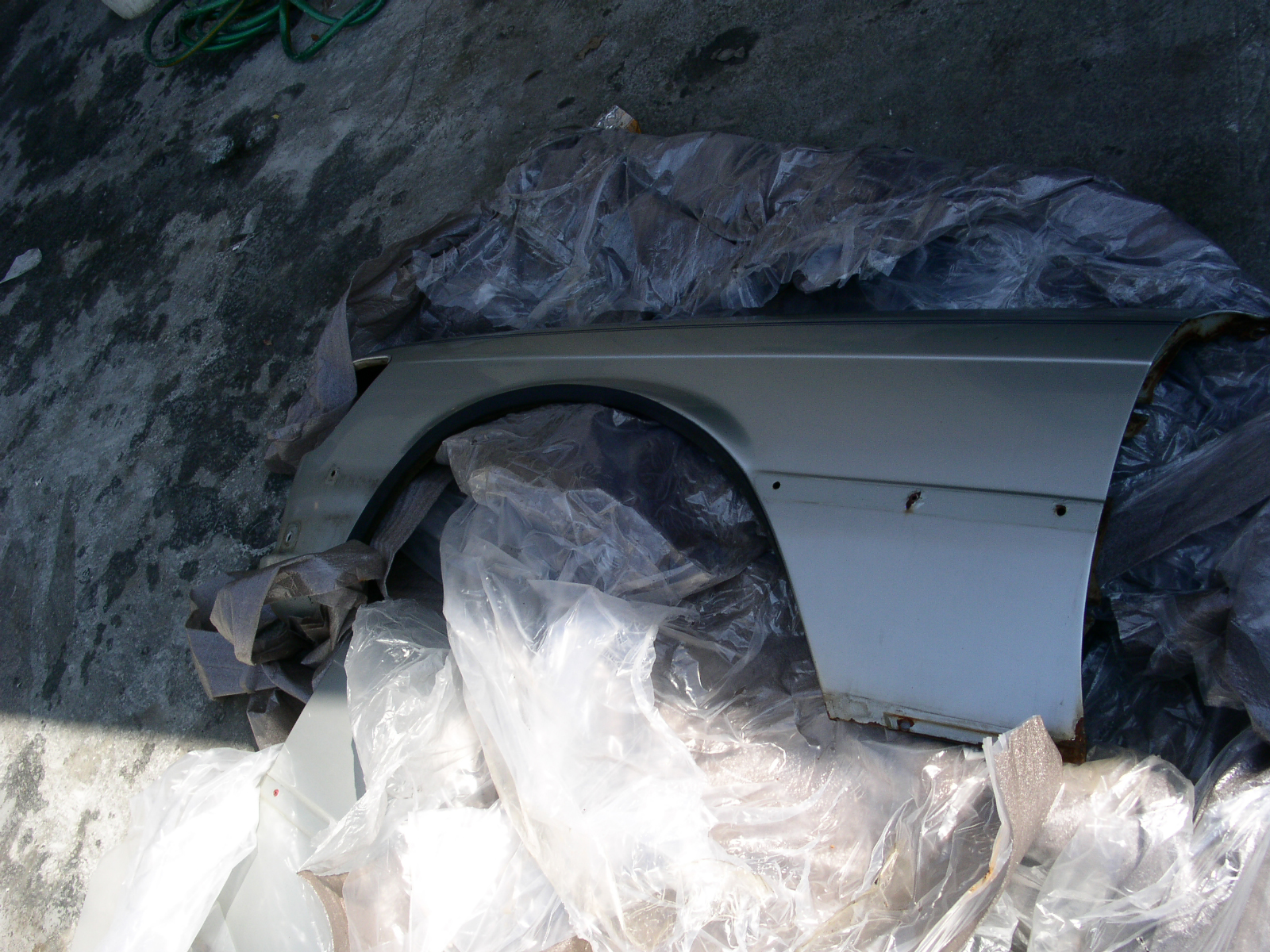 Drivers side replacement wing in its packaging, the leasing office at my apartment was not happy when they had to accept this package.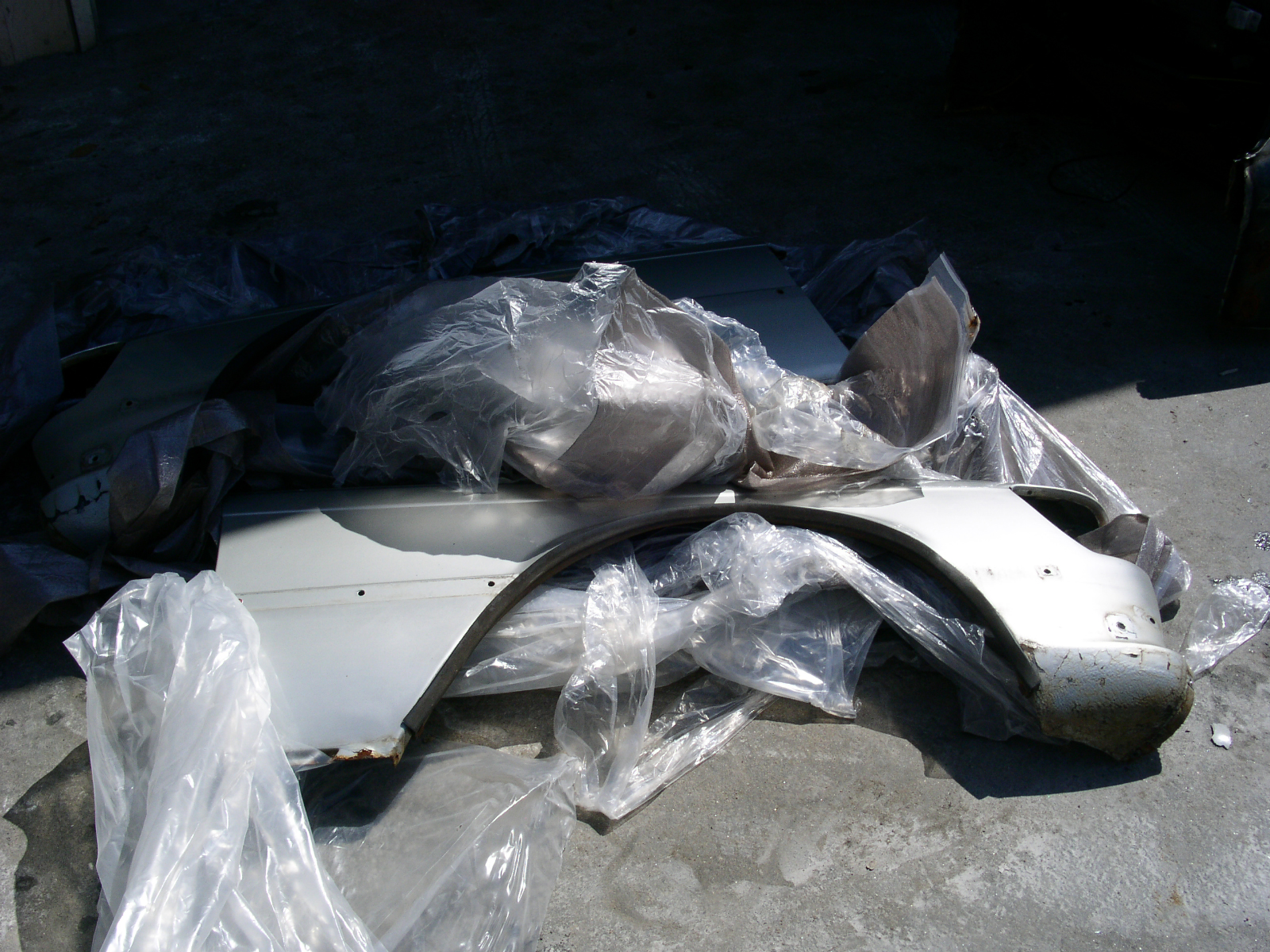 Passenger side wings, notice the rust at the bottom of both fenders.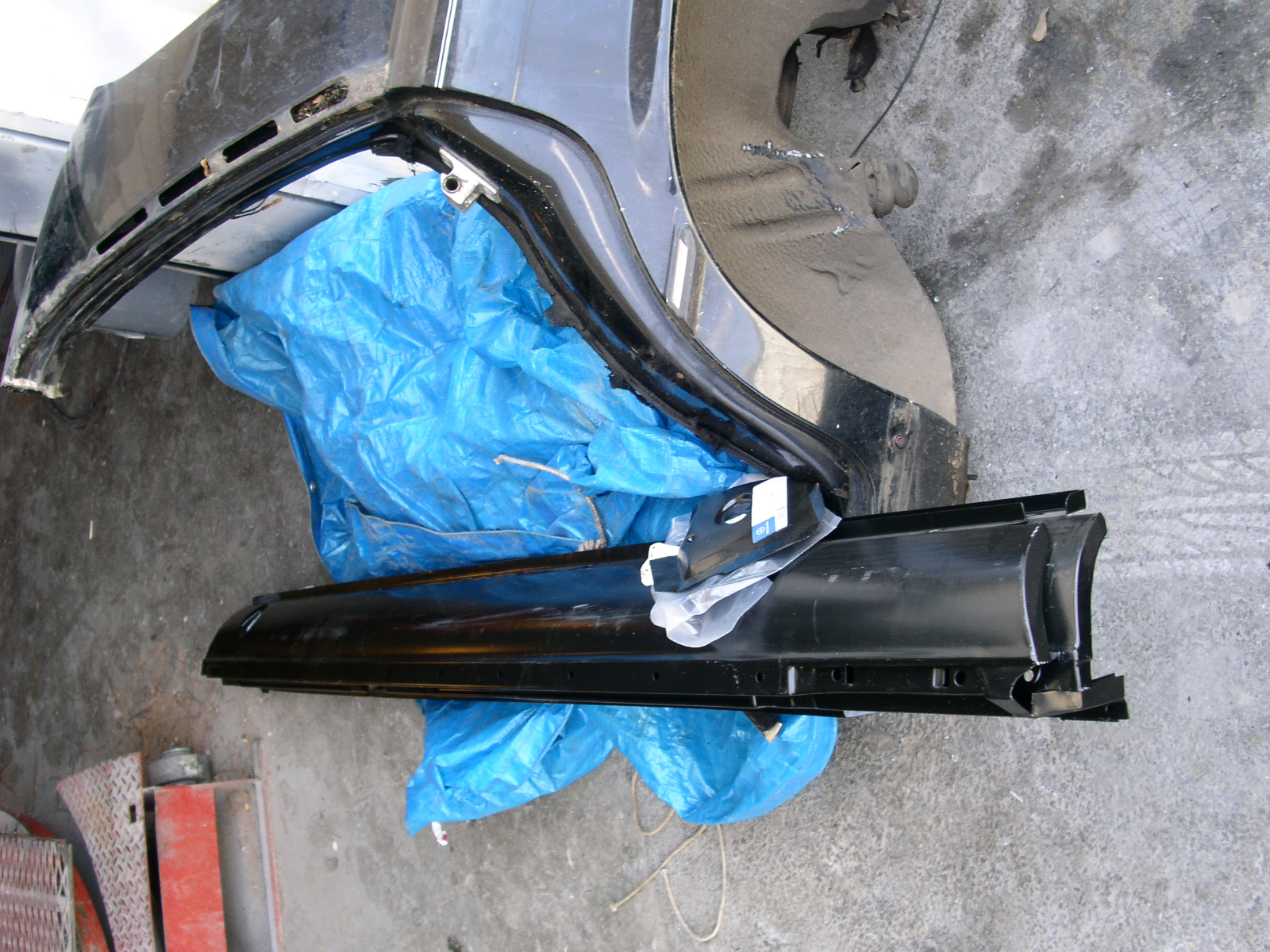 This is what VERY expensive rocker panels (sills) look like. They the only new set of parts that I am using for this restoration.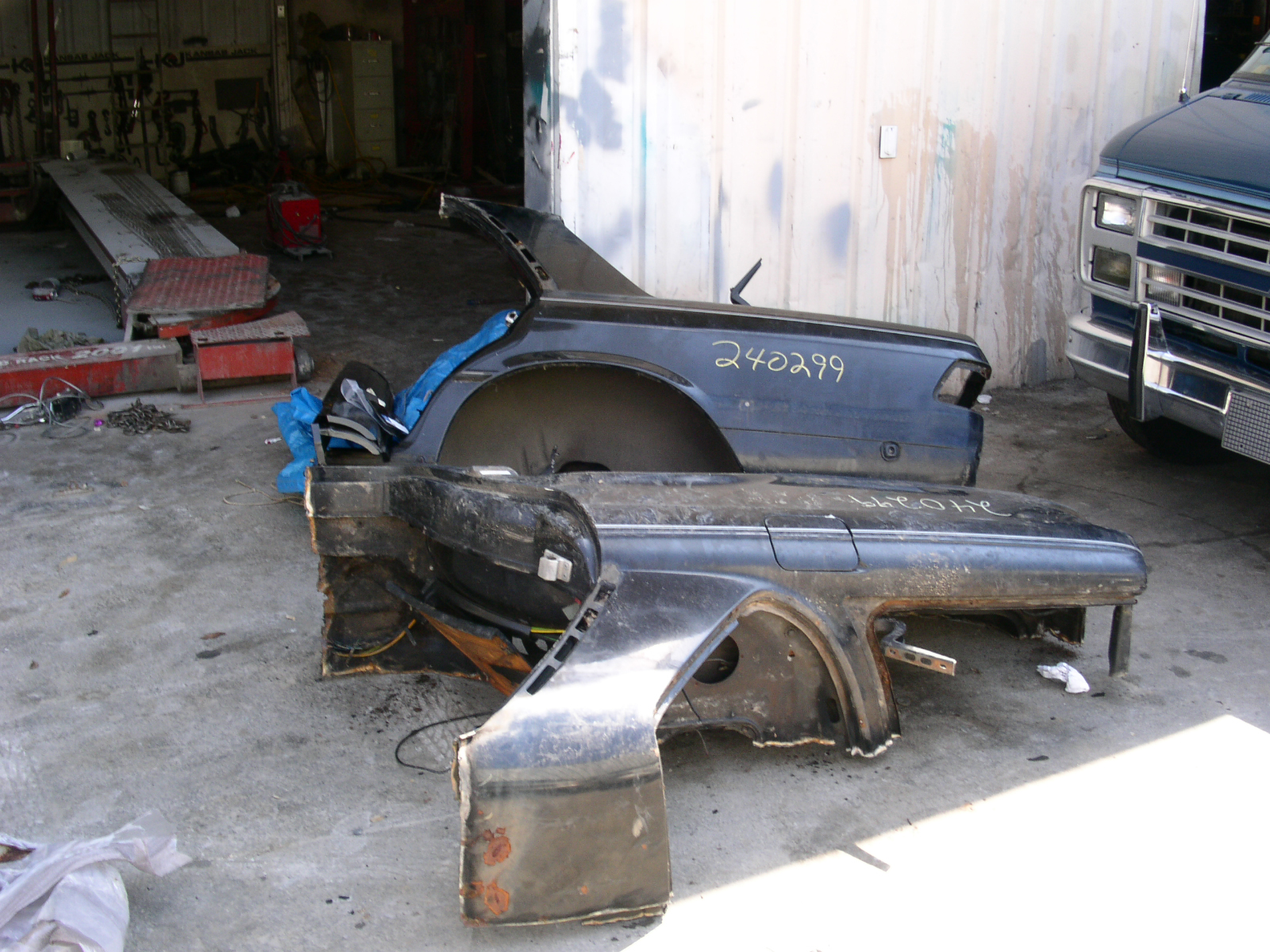 The used quarters from Alabama. As you can see. the yard cut the part so that there is plenty of metal for the bodywork guy to work with. He should be able to take as much or as little as he needs from this.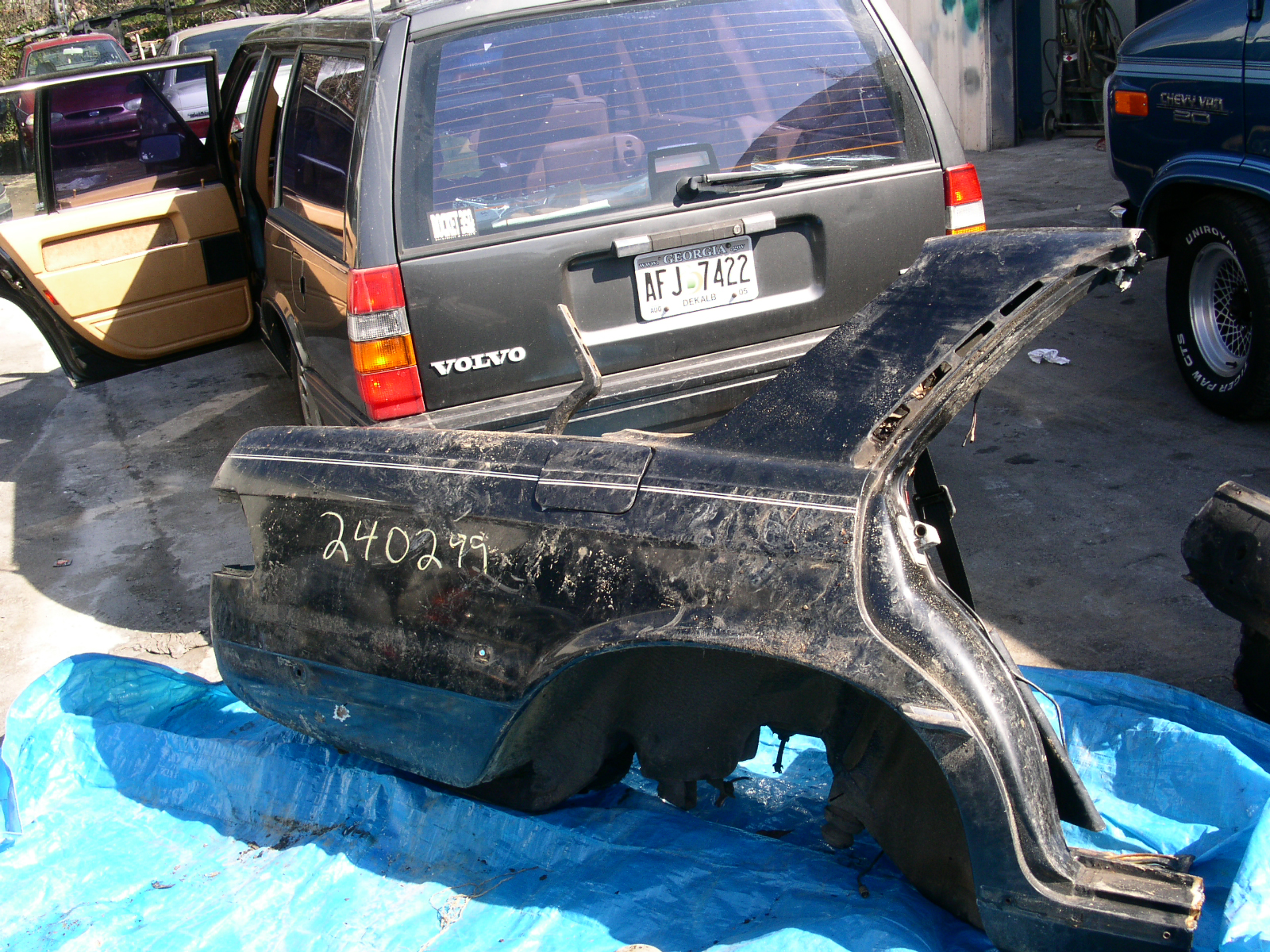 This is a picture of the quarter as it was unloaded from the roof of my car.
The Family
Restoration